Ornament-Adorenaments-His Royal Names (Box Of 7)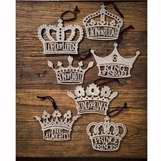 Price:

$49.99




$39.99

Quantity Available:
Call for availability
ISBN/UPC:
1602006636
Department:
Gifts
Format:
Non-Book/Non-Music Item
Author/Artist:
Ever Thine Home
Publisher:
Family Life
Product ID:
121817
Description:
Inspiring and beautiful Christmas ornament set that focuses on the royal names of Jesus. Each crown is uniquely detailed and embellished with glitter trim.
Son of David, The Almighty, Lion of Judah, King of Israel, Prince of Princes, King of Kings, Lord of Lords. Velvet ribbons adorn each one. Adorenaments: - His Royal Names Set.
Created by Barbara Rainey for Family Life Today; each set of crown ornaments is beautifully packaged with a 32 page read-aloud book.